New Ford Electric and Hybrid Vans
Discover the new Ford Electric and Hybrid Van range and find the best electric van for your business. Ford Electric and Hybrid Vans are designed to squash any myths regarding electric van towing and load capabilities. In fact, Ford Electric Vans power your business in the same way as our non-EV range, with the added benefit of reducing your carbon footprint and increasing your corporate responsibility.
If you're looking to electrify your business, you're making a smart decision. An electric or hybrid van can lower your running costs as well as your environmental impact. However, it can be difficult to know where to start when it comes to electric-powered vans. So, to make things easier for you, here's everything you need to know about Ford electric vans.
The Ford range is one of the most famous in the industry. Find out why by purchasing one for yourself. Contact the expert Sandicliffe team for more information, or visit your local Sandicliffe FordStore to take one for a test drive. We are here to help you make the switch to electric power and start saving your business money immediately.
Different types of Ford electric vans
The Ford electric range is here, and it's just as versatile as you would expect from the world's leading motor company. From Mild Hybrid vehicles that require no charging at all to All-Electric cars that you can charge at home, on the go and at your workplace, making the leap to electric feels is easier than ever before.
Ford electric and hybrid technology can be split into four categories: Mild Hybrid (mHEV), Hybrid (HEV), Plug-in Hybrid (PHEV) and All-Electric (EV). Find out more about Ford's variety of electric and hybrid cars below.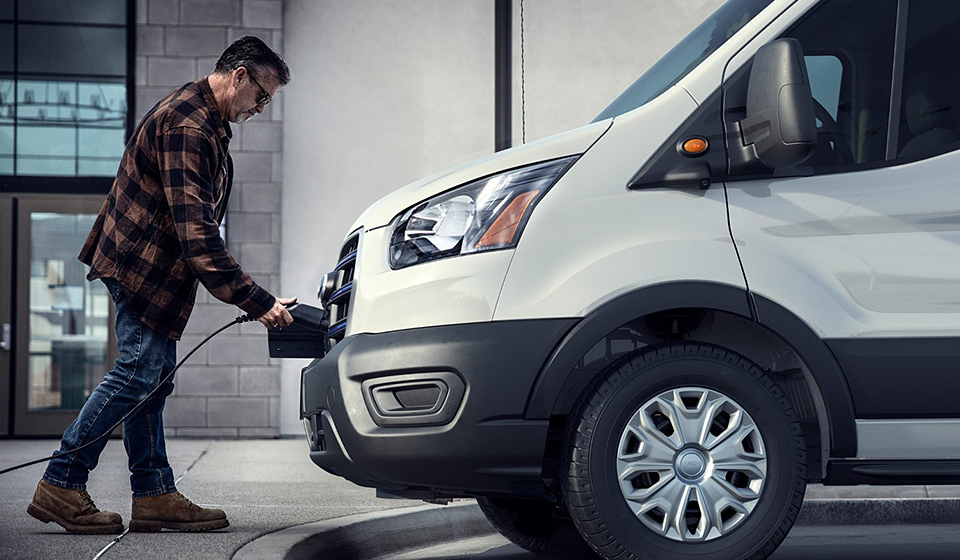 Reduced costs and tax exemption
Because of their lower emission output, by driving an electric van you can expect to save money through zero road tax/VED (Vehicle Excise Duty), immunity from congestion and toll charges in low-emission zones, as well as 0% Benefit-in-Kind taxation. With the rise in low-emission zones around the country, this is something every tradesperson will want to consider.
Simpler servicing for electric vans
Reduce the number of trips to the garage with simpler servicing at Sandicliffe Ford. You'll be pleased to know that electric vans are made from fewer parts than their non-electric counterparts, so there are considerably fewer things that could go wrong (if any). Not only does this save you money due to less frequent van servicing, but it also allows your business to stay confident on the road thanks to the remarkable reliability of Ford electric vans.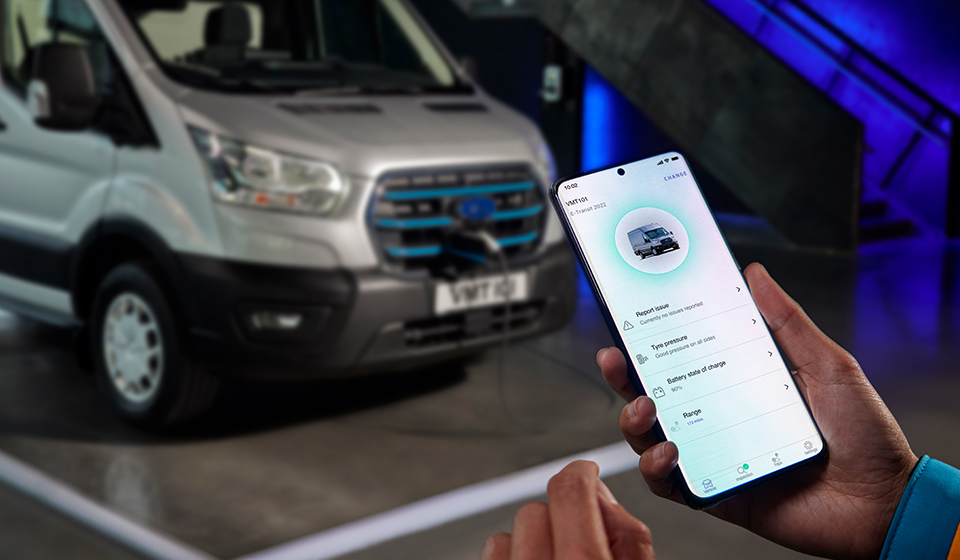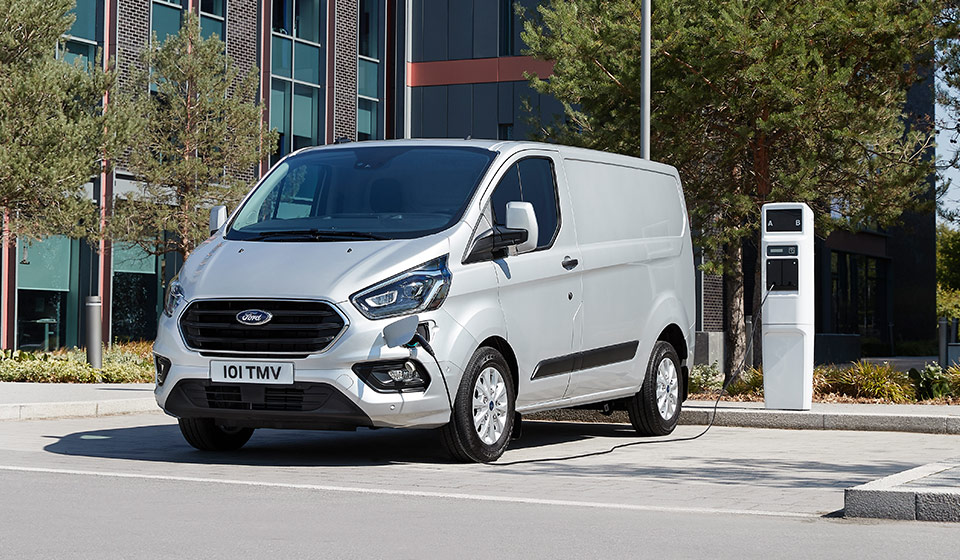 You're in charge, wherever you are
Whether you choose to charge your fleet at work or prefer to charge your electric van on the move, you'll be glad to hear that it's never been easier. With the enormous increase in charging stations around the country, you're never too far from power. Thanks to Ford Sync technology, you're able to locate your nearest charge point with ease on your infotainment display or mobile device.
Government grants for electric vans
Did you know you are eligible for government grants and support when purchasing an electric van in the UK? If your business decides to install a bank of charging ports to support their new electric fleet, they can also actress grants to make the installation of chargers more affordable. Talk to the award-winning Sandicliffe team to find out how you could benefit from these schemes.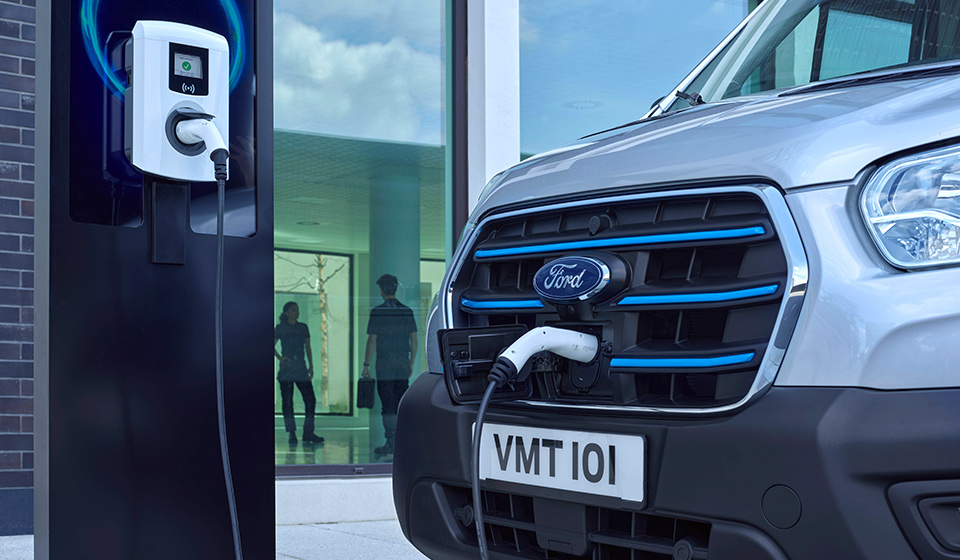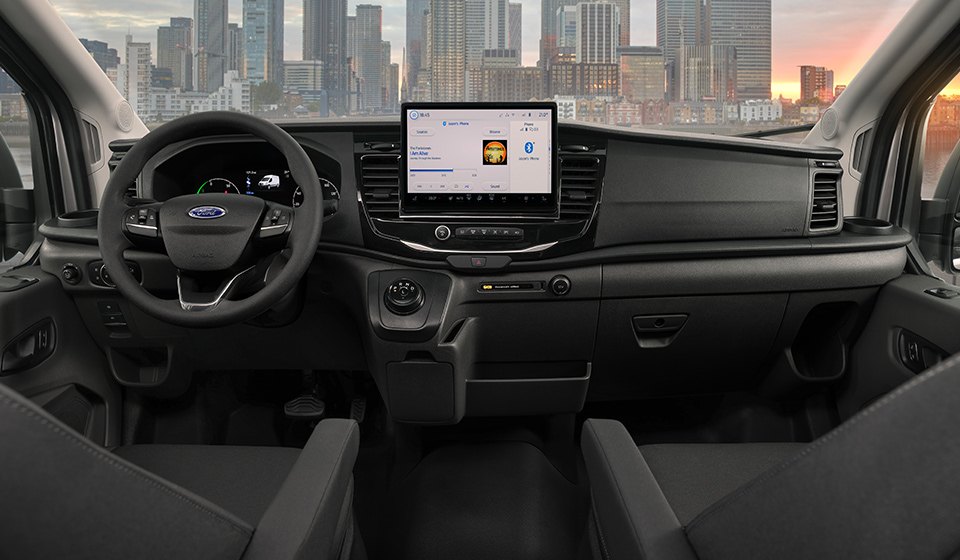 Incorporate Corporate Social Responsibility (CSR)
Environmental concerns are a hot topic right now. People want to know they're buying from responsible businesses who are doing everything they can to preserve our planet. Electrifying your business fleet and driving cleaner, greener, electric alternatives helps to reassure your customers that you are on board with their concerns. At Sandicliffe, we make it easier for you to meet your CSR requirements by making the switch to electric and hybrid vans affordable and highly rewarding.