Charging
Every customer has a different charging need. Ford Pro™ gives you a broad range of home, work depot and public charging options as well as the connectivity tools to maximise vehicle productivity.
If you have any questions about Ford electric vehicles or charging electric vehicles, our team are on hand to help you.
Home Charging
You can recharge your plug-in or electric van at home by plugging into a regular domestic power socket, or a Ford Wallbox home EV charging point for faster home charging speeds.
The Ford Connected Wallbox offers faster charging times versus charging via a conventional plug socket, getting your all-electric or PHEV vehicle charged overnight. With the help of our expert partners at British Gas / Centrica, we can help you arrange the installation at your home.
Alternatively, you can buy our wallbox directly and arrange installation yourself via a certified electrician. Contact our team today to learn more about purchasing your own Wallbox.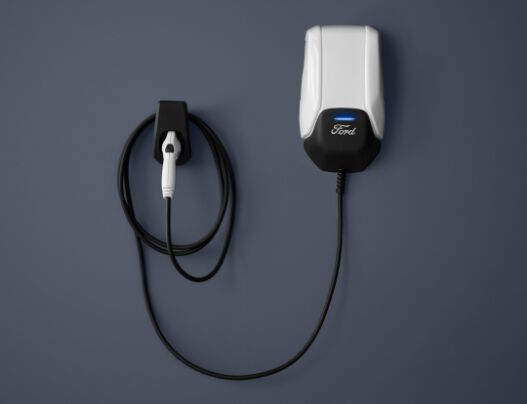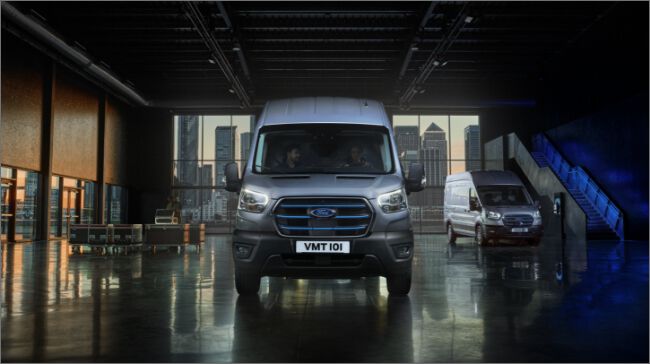 Depot Charging
Installing Ford connected chargers at your business site will ensure your vehicles are always charged and work ready.
Ford can provide the full package for your depot charging requirements; all your charging hardware, charging point installation and maintenance; along with software management system. Fast charging points will mean your electric vehicles are quick to recharge and ready to go.
Businesses can also schedule and supervise all-electric vehicle charging with Ford Pro™ E-Telematics.
Public Charging
The BlueOvalTM Charge Network gives you easy access to over 300,000 charge points, over 16,000 which are in the UK, including high speed IONITY charging stations. With in-vehicle Ford Charge Assist, you can easily locate convenient charging along your route and provide real-time availability, cost and charging speed information for your selected charging point.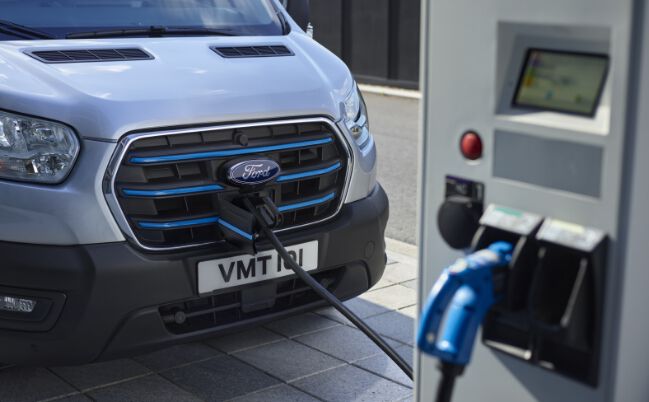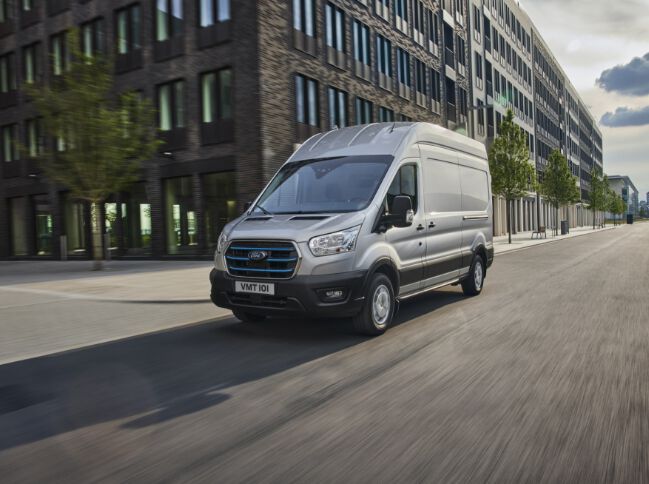 What Affects EV Range?
There are three main factors that can affect the driving range of a full electric vehicle:
Heavy acceleration and high speeds
- In any type of vehicle, accelerating fast will use more power and reduce range. This applies to Internal Combustion Engines (ICE) and Electric Vehicles (EV).
- Likewise, faster speeds create exponentially more wind and road resistance, impacting on the range.
Climate and temperature
- Extreme heat or cold temperatures outside have the potential to affect battery range, directly. All electric vehicles (EV's) have less energy when in cold temperatures compared to warm temperatures due to battery cell chemistry.
- Heating and cooling the inside of the vehicle for passenger comfort also has an impact.
Payload
- Transporting more weight in the form of heavy cargo or multiple passengers results in greater energy consumption.
Electric vs Fuel - Cost Calculator
How much could you save?
During the time of owning your current vehicle, you will pay * in liquid fuel
However if you owned an electric vehicle, you would pay ** in electric costs
Total Saving:
Charge for electricity based on off peak. FOC charges excluded.
*Based on a pump price of £1.45 for petrol & £1.55 for diesel.
**The above is based off a Mach-E with a 379 mile range & 78kWh battery.