The commercial Nissan van range at Sandicliffe
When you discover the comprehensive range of Nissan vans available at Sandicliffe, you will wonder why you hadn't invested in one sooner. With innovative technology and low running costs, whichever van you choose is guaranteed to support you and your business with all of your needs.
The all-new Nissan van range consists of four powerful and practical vehicles. The Nissan Interstar, Nissan Primastar and Nissan Townstar are petrol- or diesel-powered. Then there is also the electric-powered Nissan e-nv200 that is part of Nissan's mission to "electrify the world". Whether you prioritise power, comfort or space, there is a Nissan commercial vehicle for you.
To find out more about the range of vans and other Nissan vehicles available at Sandicliffe, get in touch with our award-winning team today. Or, visit your local Sandicliffe Nissan dealership to take a look at our fantastic range of Nissan's yourself. You are sure to be impressed by what you see.
The brand-new Nissan Interstar
The all-new Nissan Interstar is the biggest petrol-powered van in the Nissan commercial vehicle collection. It offers an incredible amount of space without compromising on comfort. This large van is also available in a range of striking colours, making it easy to match your company's colours and identity.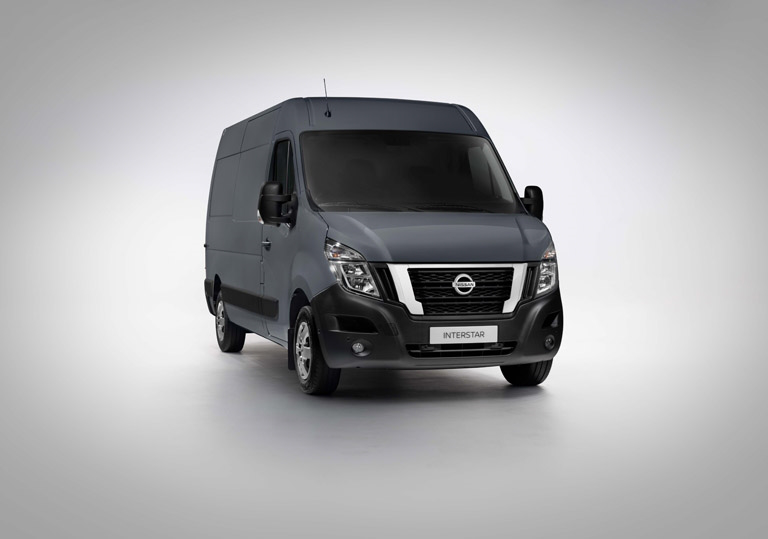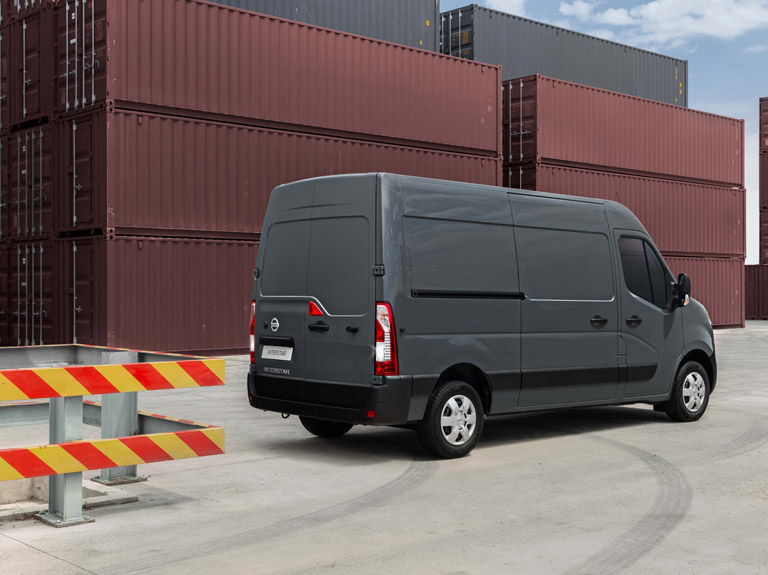 Ready to work hard for you
The new Nissan Interstar is designed to be your perfect business partner. It's ready to go to work with a generous 17m³ of cargo space, or a whopping 22m³ with the additional Box Van conversion. The floor of the van is deliberately low and couples perfectly with wide doors to make loading and unloading cargo incredibly easy.
There is also a range of layouts available that allow you to customise your Interstar to meet your exact needs. You can choose to set up as a Panel Van, Dropside single/double cab, Tipper single cab, Crew Van or many more. Whatever the job, the Nissan Interstar is ready and able to get it done, making your life easier in the process.
Reliability and low running costs
The Interstar is powerful and robust, with an engine that offers an efficient and economical output. This keeps running costs low and gives you the confidence that your Interstar will be operating perfectly for many years to come. With an additional choice of wheelbase, length, height, payload and engine, there is nothing quite like the Interstar.
The all-new Interstar builds upon Nissan's well-deserved reputation for reliability. Nissan officially states that you can go two years or up to 25,000 miles between oil and filter changes. Without the need to worry about the health of your van, you can focus on getting the job done.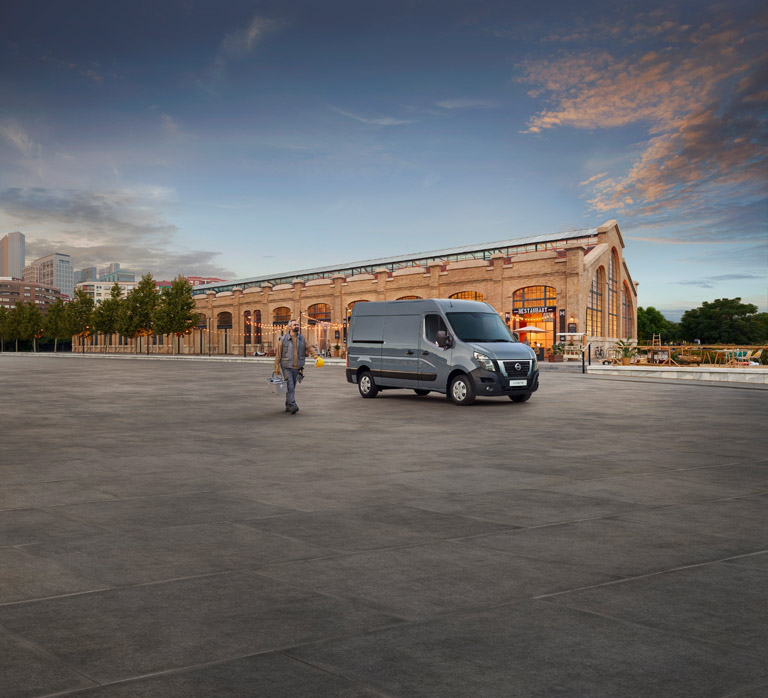 Vast space and incredible comfort
You will never struggle for space with a Nissan Interstar. More than matching up to its incredible cargo potential, the cabin is spacious and comfortable. The dashboard is uncluttered and sleek and there is plenty of storage close at hand. There are also additional safety touches like a wide-vier mirror on the passenger's sun visor that doubles your line of sight on the passenger side.
The cabin is well insulated for sound and has seats that are designed to keep you comfortable, no matter how far you're driving. You can fully customise your seating position for maximum comfort. This includes allowing you to adjust the cushion tilt, the lumbar support and the headrest to meet your preferences.
Meet the new Nissan Primastar
The all-new Nissan Primastar is a medium-sized commercial van that offers the versatility and power needed to help you drive your business forward. There are four different models of the Nissan Primastar, the Visia, Acentia, Tekna and Tekna+. Having a variety of models in the range makes it even easier to find the perfect Nissan Primastar for you.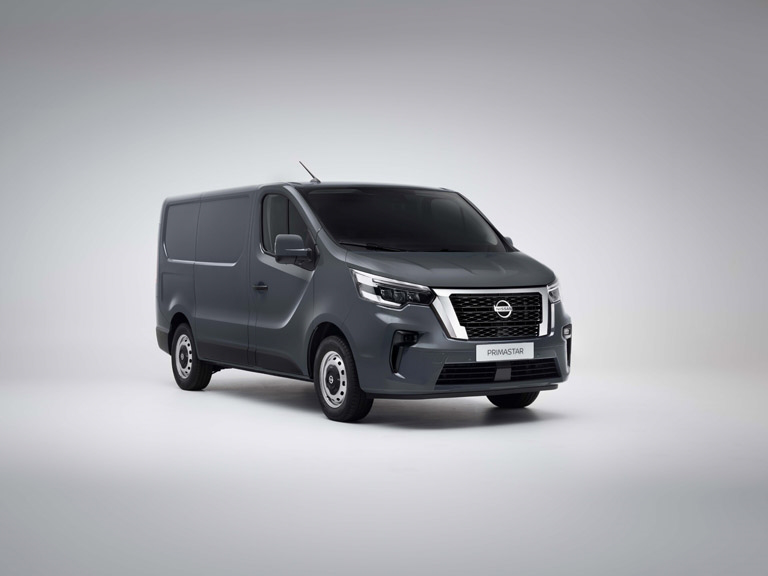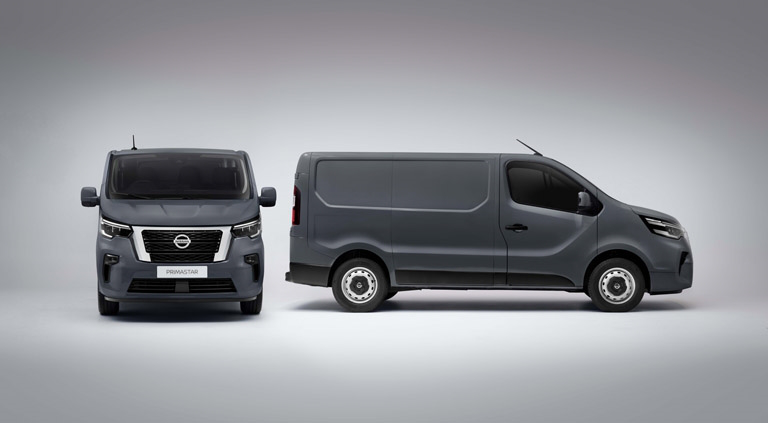 All-new and ready for the future
The all-new Nissan Primastar is designed with utility, comfort and efficiency in mind. Like the larger Interstar, the Primastar comes with low running costs, plenty of power and a customisable design.
You choose whether you want your Primastar to be a Van, Crew Van or Platform Cab. By customising your Nissan to fit your needs, the Primastar can become your dream business partner for years to come.
Eye-catcing exterior design
The Primastar not only stands out from the crown in terms of performance and reliability, but it also stands out on the roads for its exciting design. An all-new grille design and LED headlights give the Nissan Primastar a modern and striking look.
You will have a choice of engines, trims, body types and lengths when purchasing a Nissan Primastar. This combines with a choice of numerous colour options to allow you to have your commercial vehicle your way.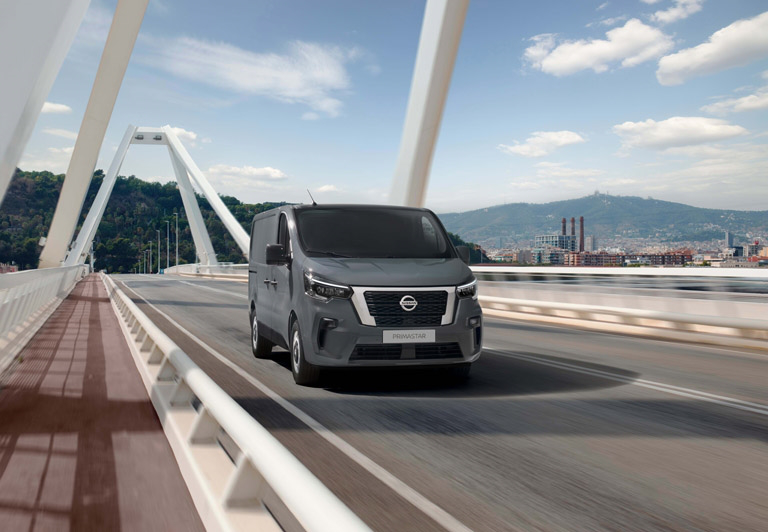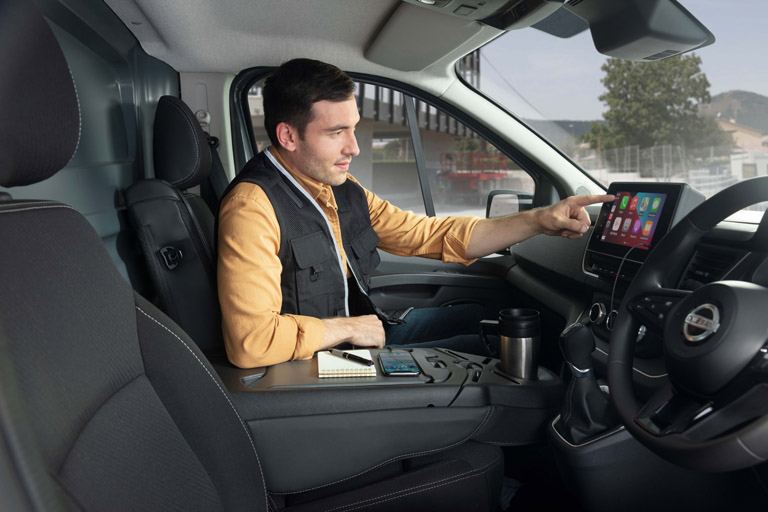 The peak of comfort and utility
The all-new Primastar offers you an extraordinarily comfortable driving experience. The seats are designed to provide comfort over long journeys and several unique features make the Nissan Primastar feel like a mobile office.
There are clipboard and smartphone holders built-in, as well as a host of storage options that allow you to bring everything you need along for the ride. The new Nissan MediaNav System also makes sure that you are always heading in the right direction.
Discover the Nissan Townstar
The Nissan Townstar is an all-new compact van that offers you an incredible range of features and a surprising amount of space. Available with both a petrol and diesel engine, the Townstar is designed to meet all of your specifications. With several extra customisation options, the Nissan Townstar is designed for every task and terrain.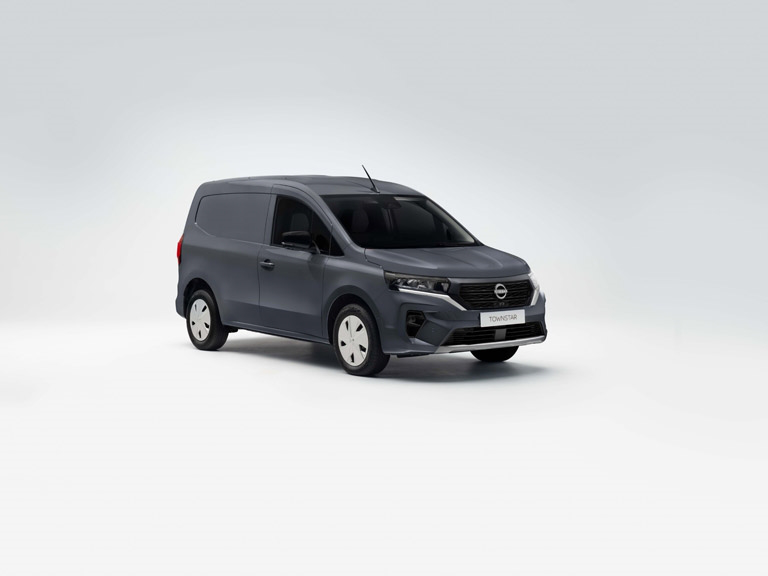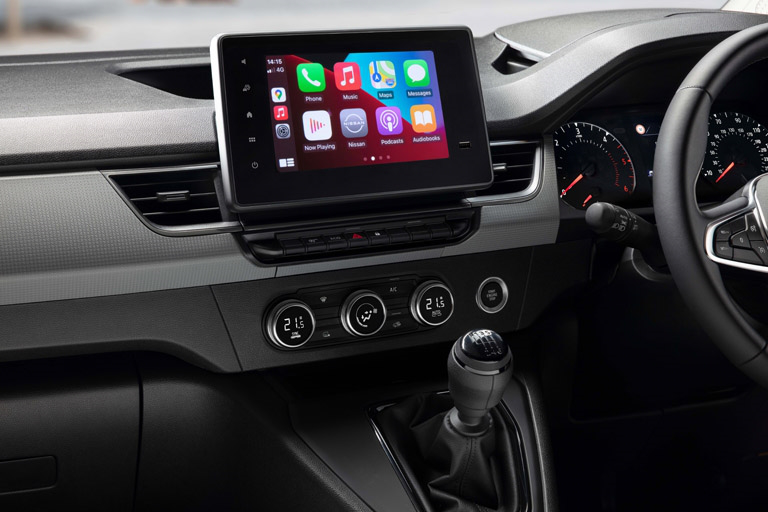 New technology, new driving experience
The all-new Nissan Townstar utilises state-of-the-art driving technology to offer you a versatile and intuitive experience behind the wheel. The 10-inch digital dashboard is customisable, making this van perfect for any driving style or preference.
There is also an 8-inch infotainment system that provides you with everything you need to make your journey enjoyable. The infotainment system is voice-activated, which allows you to effortlessly control your settings and playlists
Sleek and stylish design
The look of the all-new Townstar is designed to turn heads and attract attention. The exterior is sleek and dynamic and takes a great deal of inspiration from the stylish Nissan ARIYA. Signature headlights and an aerodynamic front-end give this practical vehicle a sporty look.
The aerodynamics of the Nissan Townstar aren't just an aesthetic choice. They have also optimised the vehicle to reduce drag and lower fuel consumption. Practically and style work in perfect unison throughout the Townstar, offering a unique commercial driving experience.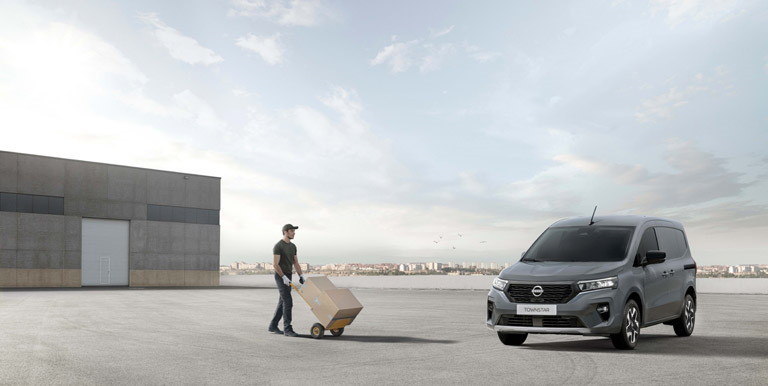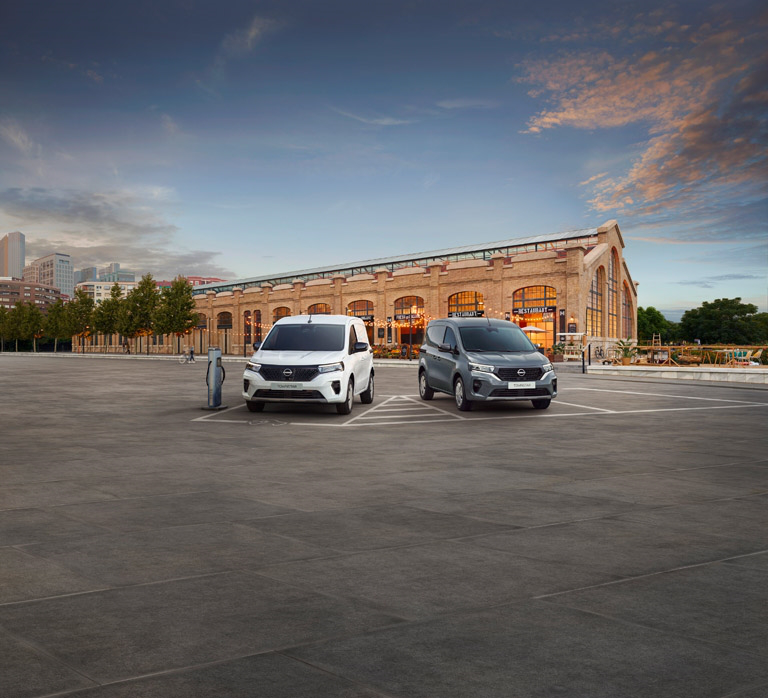 Innovative safety features
There are a host of innovative safety features found within the Nissan Townstar that will give you peace of mind on every journey. A 360-degree Around View Monitor makes parking easier in cities and tight places. This is the first time technology has been used in a compact van.
You will also enjoy the benefits of several driver assistance features that will make your journey safer and easier. These features include Side Wind Assist and Trailer Sway Assist. With robust features and modern technology, the all-new Nissan Townstar is built to face up to any task.