FORDLiive Vehicle Uptime System
Welcome to FORDLiive, your connected vehicle uptime system that is designed to keep your commercial vehicle on the road and your business healthy. FORDLiive is made up of 3 key areas: Smart Maintenance, Ford Service Pro and our FORDLiive Centre. All three work together to reduce downtime by up to 60%* making sure your business is back on the road as soon as possible.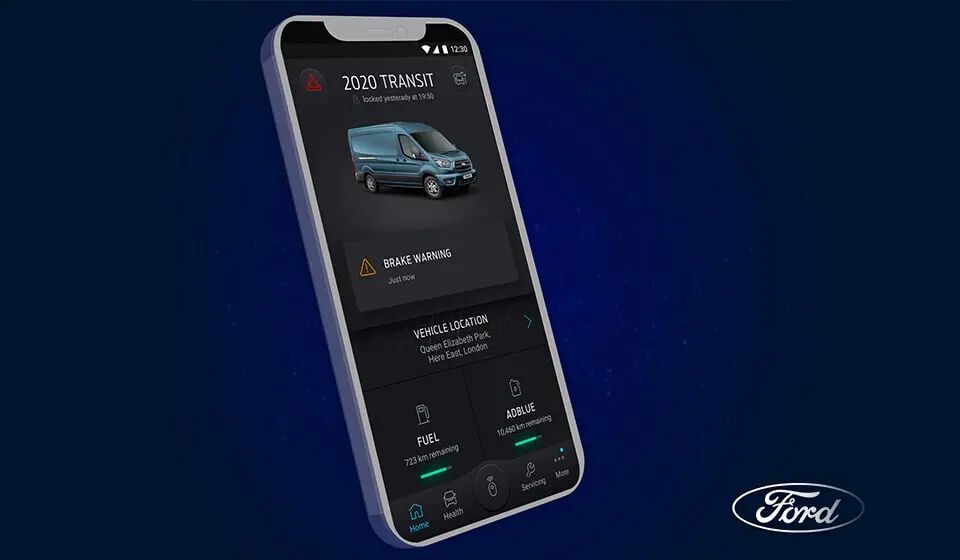 FordPass Pro: Smarter Maintenance
FordPass Pro is capable of delivering real-time vehicle data that helps prevent breakdowns and optimises vehicle maintenance requirements. The use of real-time data helps deliver vehicle-specific information, faster issue diagnosis and solutions as well as proactively supporting our Transit Centres with parts and expertise.
That means once your vehicle has been registered on the FordPass Pro app, you can access up to 60 days' worth of vehicle health status, speeding up the process of diagnostics as well as being able to anticipate and prevent breakdowns before they occur.
Ford Service Pro: Time Is Money
Our business customers benefit from improved capabilities thanks to Ford Service Pro . From extended opening hours, same day inspections, 1-hour express servicing and more, we're committed to minimising downtime and expense to your business, at your convenience. We'll even collect, deliver and wash your vehicle so you can focus your time and energy on driving your business forward.
FORDLiive is also increasing the connectivity of Ford engineers by piloting virtual reality headsets, "teleporting" experts into our Transit Centres to further help diagnose complex issues and offer effective solutions, saving on the time and cost of physical travel.
FORDLiive Centres: Dedicated Back-Up From Ford
FORDLiive Centres harness the power of the wider Ford network and partnerships with Roadside Assistance Suppliers that enable us to support you.
FORDLiive Centres connect FORDLiive agents with your local Sandicliffe Transit Centres in real-time with expertise, resources and vehicle health data to identify where assistance can be provided to resolve technical issues or expedite parts.
The teams at these FORDLiive uptime centres use new UptimePro software, which receives live data from our Transit Centres to track every repair for optimum uptime. If the system detects delays to repairs or repeated visits from the same vehicle, FORDLiive Agents will advise on the best solution to identify and fix the underlying issue as quickly as possible.
What is FORDLiive and how it's changing business for the better
FORDLiive enables smarter maintenance decisions, faster turnaround and dedicated data-driven technical support, promising to transform the productivity of your Ford commercial vehicle. It is an integrated suite of products and services designed to maximise the productive uptime of your connected Ford commercial vehicle.
FORDLiive is what keeps your business on the road. By harmonising the 3 main areas of commercial vehicle maintenance, we've mastered a process that means your business doesn't suffer even when your vehicle does.
After all, if your vehicle stops, your business stops and FORDLiive is here to drive your business forward.
Benefits of FORDLiive
Real-time data through FordPass Pro helps track and diagnose issues faster.
By catching issues faster, we're able to minimise chances of breakdown, reduce time spent on trips to dealers and speed up workshop repairs.
Ford Service Pro offers exclusive benefits such as extended opening hours, same day inspection and Ford Express Servicing (1-hour service).
You can easily book your Ford Service Pro through your FordPass Pro app.
Dedicated FORDLiive Agents are on hand and ready to assist with more complex issues to ensure they are resolved as quickly as possible
All of the above helps reduce downtime of your commercial vehicle by up to 60%*.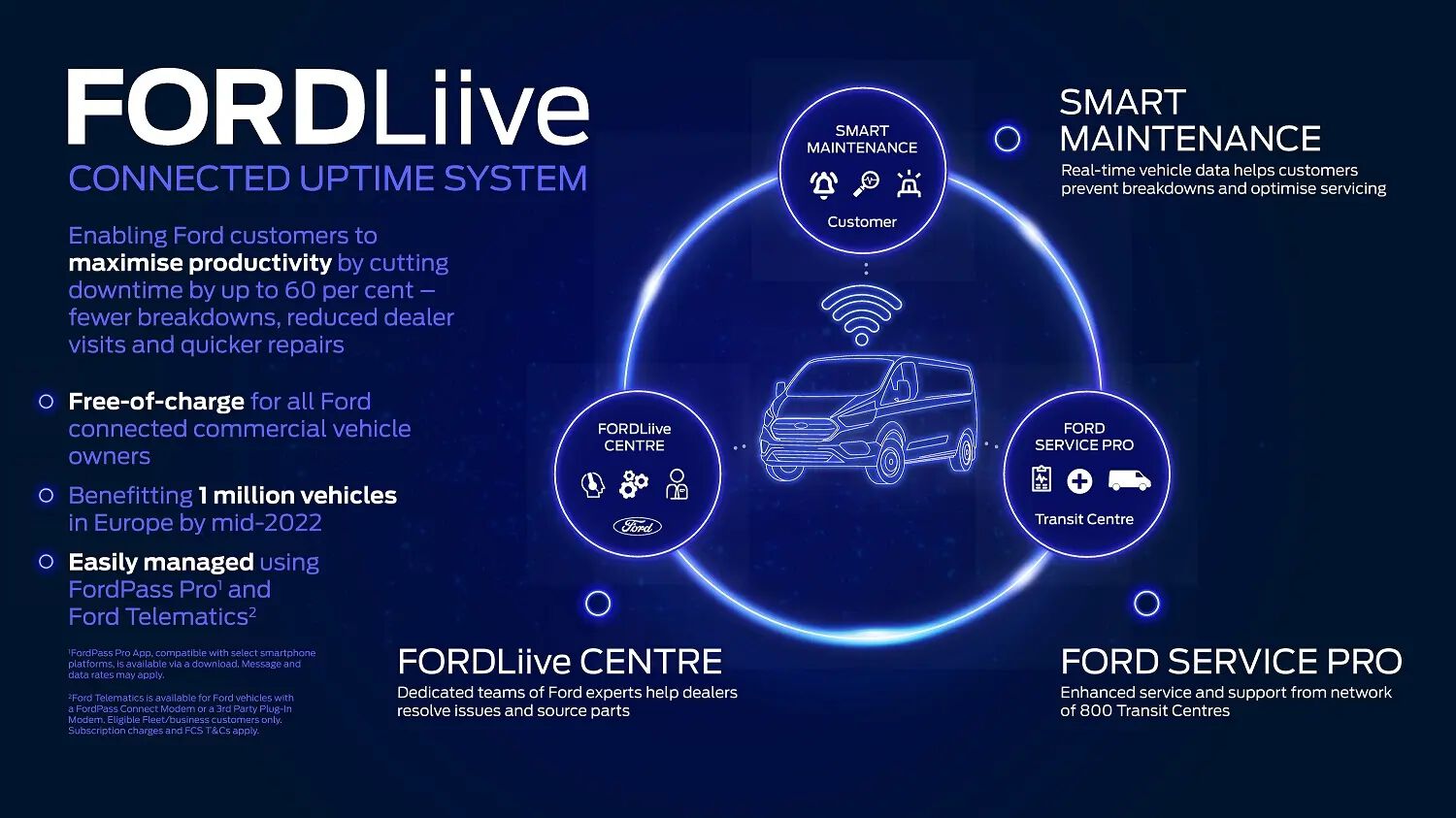 Ford Telematics: The Business App for a connected fleet
If you manage over 5 vehicles, Ford Telematics gives you the tools you need to keep the fleet healthy, secure and running smoothly! The free Essentials package provides vehicle health status insights and health alerts, meaning you can manage the health of your fleet as well and reduce vehicle downtime. Alternatively, Ford Telematics is a subscription service that allows you to do everything that Essentials does but also offers; GPS tracking, fuel monitoring and the all important driver behaviour information!
Optimise costs and maximise your fleet's productivity with Ford Telematics.