2020 Nissan NV250 Van
The small van with big plans
The All-New Nissan NV250 Van is the latest Nissan commercial vehicle now available with Nissan's unswerving 5-year/100,000-mile warranty cover. The NV250 small van range is offered in 2 different load lengths comprised of the NV250 L1 Panel Van and the longer NV250 L2 Panel Van. There is also the option of a NV250 Crew Cab Van offered in the L2 body style.
As well as a 61kg payload increase, the new Nissan van gets more driving technology than its predecessor - the NV200 - including Hill Start Assist and Extended Grip. This means your NV250 benefits from a raised ride height, a limited slip differential, and panels which protect the underbody when you are faced with slippery terrain. But that's not all, the NV250 allows more customisation options for racking and panelling than the NV200, ensuring it is tailored to the specific requirements of your trade.
Find the perfect commercial van best suited to your business needs in the all-new 2020 Nissan NV250 range.
NV250 L1 Panel Van
The NV250 L1 Panel Van is the smaller body style within the range, but don't let that put you off. The NV250 L1 is more than capable of carrying an impressive payload of up to 650kg as well as being able to hold 3.5 cubic metres of cargo volume with the optional loading bulkhead.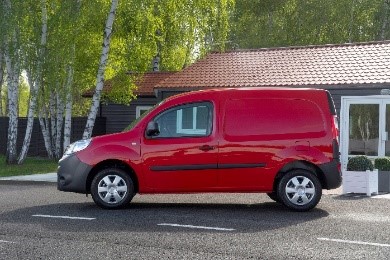 ICONIC NISSAN BUILD
The NV250 L1 is the smaller load length within the commercial range. It gets the famous Nissan V-shaped front grille, plastic cladding bumpers and a load space more customisable than ever before. Its iconic build makes it the perfect choice for your business.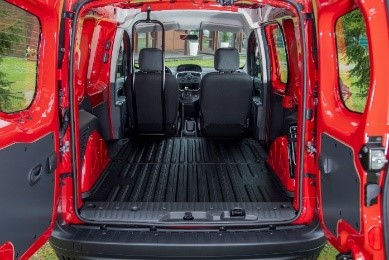 IMPRESSIVE PAYLOAD
Take the weight off your shoulders with the Nissan NV250's 650kg payload capacity. Store up to 3.5m cubic metres of cargo thanks to an optional loading bulkhead and transport goods up to 2.5m long in the All-New NV250 L1 Van.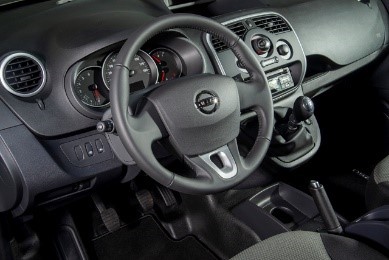 COMFORTABLE INTERIOR
The NV250 L1 is a commercial vehicle through and through. Its dark and durable interior puts function at the forefront without compromising comfort. Easy to wipe surfaces and ergonomic controls make this vehicle an office space you won't mind spending the majority of your day in.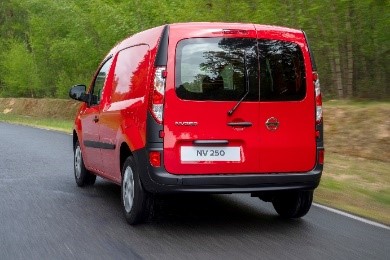 SPLIT REAR DOORS
The L1 Panel Van gets a sliding door for easy access into the cargo area from the side of the van. Additionally, two rear barn doors split open to the cargo area for convenient loading and unloading, particularly useful if your business requires carrying pellets. It also means you can make the most out of roof-rail instalments without a lifting tailgate getting in the way.
NV250 L2 Panel Van
The NV250 L2 Panel Van is the longer body style within the range, also available as a Crew Cab with extra seating for your colleagues. The NV250 L2 carries an impressive load up to 800kg as well as being able to hold 4.6 cubic metres with the optional loading bulkhead.
Choose the NV250 Crew Cab alternative and benefit from an additional 2 rear seats which can easily be moved away to create more room for your cargo. This adaptable nature of the NV250 Crew Cab means you can make the best use of the load space available, enjoying a payload capacity of up to 740kg and up to 3.6m cubic metres of cargo space.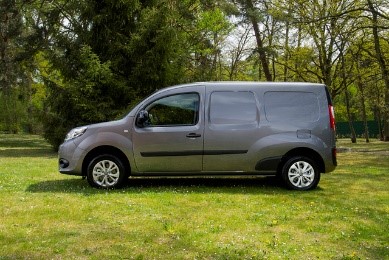 INCREASED LENGTH
The immediate difference between both vans is length, and with an additional 390mm, the L2 Panel van measures at an overall length of 4,670mm.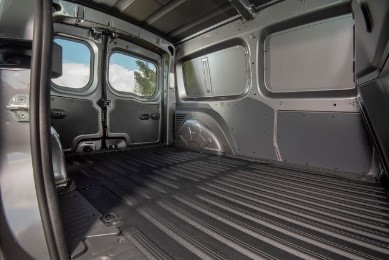 IMPRESSIVE PAYLOAD
Upgrade to an 800kg payload capacity with the L2 Panel option. Store up to 4.6m cubic metres of cargo when the passenger seat is folded and transport items as long as 2.87m with the optional bulkhead addition.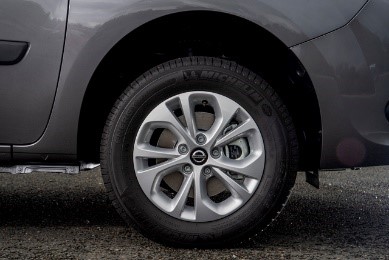 ALLOY WHEELS
Your new Nissan small van sits comfortably on 15-inch sturdy alloy wheels that make light work of tough jobs. Cruise around the country in this cost-effective city van built for hard days.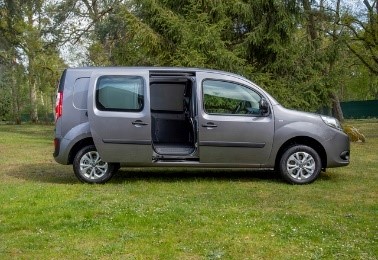 SLIDING DOORS
A sliding door on the side of your Nissan NV250 makes loading and unloading in tighter spaces easier.
NV250 Driving Technology
The all-new NV250 Nissan van is equipped with advanced safety technology and features that make light work of heavy jobs - take advantage of features such as Cruise Control, Extended Grip and Hill Start Assist. Your NV250 keeps you connected to the outside world through a touchscreen infotainment system located in your centre console for maximum ease of access. Enjoy Bluetooth and Android Auto connectivity on the go.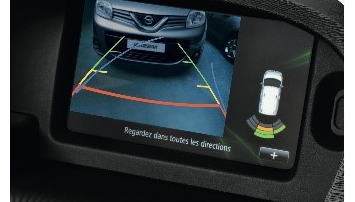 REAR VIEW CAMERA
Using visuals from your centre console screen, Rear View Camera technology helps you manoeuvre your Nissan NV250 effortlessly. Parking a van has never been so easy.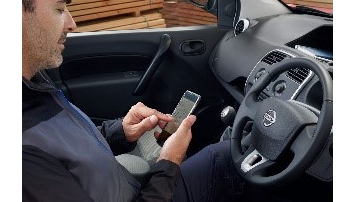 ANDROID AUTO CONNECTION
Seamlessly connect your Nissan NV250 to your Android smartphone to access all of your favourite apps on the go. Make phone calls, listen to your favourite song or navigate beyond familiar roads from the comfort of your driving seat.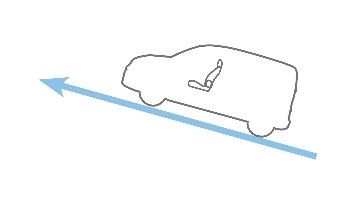 HILL START ASSIST
It's all uphill from here. Your new NV250 uses smart Hill Start Assist to hold down your brakes for 10 seconds so that you can engage your clutch and accelerate with ease.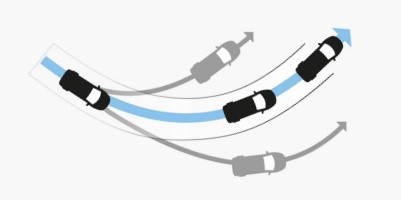 ELECTRONIC STABILITY PROGRAM
Nissan's Electronic Stability Program cleverly stabilises your NV250 van through regular monitoring and adjusting of your wheels. The system applies braking to each individual wheel as well as tweaking engine torque levels.
NV250 Performance & Engines
Nissan's NV250 is available in three engine sizes all designed with intelligent fuel economy to deliver excellent efficiency on the road. Discover the best suitable engine for your small van by comparing braking horsepower (HP), torque (NM) and CO2 emissions (g/km) of the Nissan NV250 Van below.
Nissan NV250 engine range
| | | | | | | |
| --- | --- | --- | --- | --- | --- | --- |
| 1.5 DIESEL | HP | KW | NM | CO2 EMISSIONS1 (g/km) | L1 | L2 |
| K9K Gen8 | 80 | 59 | 200 | 116 - 125 | ✔ | Not available |
| K9K Gen8 | 95 | 70 | 230 | 116 - 131 | ✔ | ✔ |
| K9K Gen8 | 115 | 85 | 260 | 121 - 131 | ✔ | ✔ |
¹Figures shown are for comparability purposes; only compare figures with vehicles tested to the same technical procedures. Actual real world driving results may vary depending on factors such as weather conditions, driving styles, vehicle load or any accessories fitted after registration. WLTP figures are converted from the outgoing (NEDC) test cycle figures.