Discover the Maxus T90EV at Sandicliffe | Your official MAXUS dealer in Nottingham
The all-new Maxus T90EV pickup truck is now available at your local Sandicliffe dealership. With
Immediate delivery available, the T90EV is the latest in the Maxus range of robust electrified vehicles and is the very first all-electric pickup truck available in the UK.
Get 5,6,7,8 Programme Perks + £5,000 OLEV Grant
Upgrade to a sustainable choice! MAXUS T90EV with 5,6,7,8 programme offers a 5-year warranty, £6,000 conquest programme, free 7kW charger, and 8-year battery warranty. Plus, £5,000 OLEV grant!
Up to
205 - 220 Miles Range
(WLTP Test Results)**
1000KG Max Payload
(exc Passengers)
Maxus T90 Electric 130kW Pickup 88.5kWh Auto - Contract Hire (All prices exclude VAT)
Customer Deposit
£2,735.28 (excl VAT)
Monthly Payment
£455.88 (excl VAT)
Number of Monthly Payments
47 Months
Excess Mileage Charge
£18p per mile
Frequently Asked Questions
The payload capacity of the MAXUS T90 EV Pick-Up is approximately 1,010 kg (2,227 lbs).
The Maxus T90 EV Pick-Up has a range of approximately 270 miles on a full charge.
Yes, the MAXUS T90 EV Pick-Up is suitable for off-road driving. It is equipped with features like a four-wheel drive system, high ground clearance, and robust suspension, which enhance its off-road capabilities. Additionally, it has a durable build quality and rugged design that make it suitable for tackling challenging terrains and rough conditions.
Why buy a T90EV?
The all-electric T90EV is here to provide completely emission-free driving to the UK pickup market. The Maxus T90EV comes complete with a robust 88.5kWh battery unit, which powers a 150kW electric motor that provides up to 204bhp. With specialist fast chargers, we expect the T90EV to power from 20-80% charge in 45 minutes.
The all-new Maxus T90EV is ideal for both on and off-road driving, allowing you to enjoy ultimate driving flexibility. Then, with a maximum electric driving range of 220 miles and a spacious and stylish interior, the Maxus T90EV will be able to get you anywhere you need to go, with complete comfort on every journey.
`The Maxus T90EV has a head-turning design that perfectly blends sturdy and robust practicality with stylish swooping lines and an eye-catching chunky grille. Inside, you will discover a 10.25-inch digital touch screen infotainment system, alongside a neat dashboard and floor console that provide a minimalist appearance and maximum space.
A maximum payload of 1000Kg qualifies the T90EV as a commercial vehicle, allowing you to access the tax breaks associated with vans like the Maxus DELIVER 9. So, whether you are looking for the ultimate business partner or a safe and spacious way to get your family moving, the Maxus T90EV is here for you.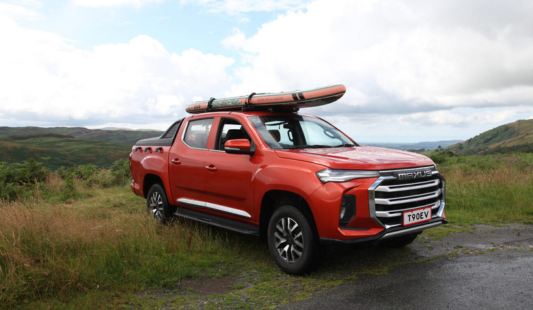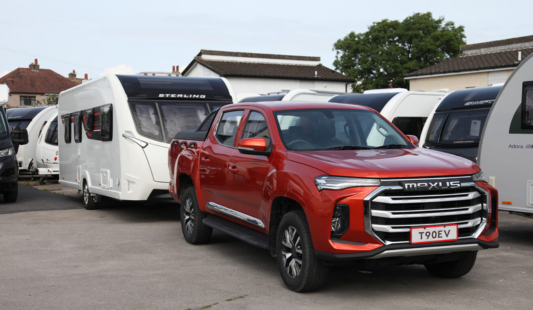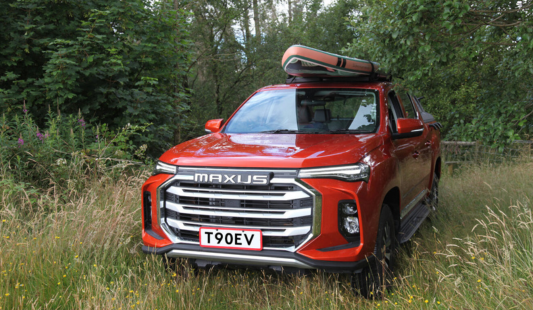 Electric vs Fuel - Cost Calculator
How much could you save?
During the time of owning your current vehicle, you will pay * in liquid fuel
However if you owned an electric vehicle, you would pay ** in electric costs
Total Saving:
Charge for electricity based on off peak. FOC charges excluded.
*Based on a pump price of £1.45 for petrol & £1.55 for diesel.
**The above is based off a T90EV with a 220 mile range & 88.5kWh battery.
*Terms and conditions apply.
**Based on a full charge. Estimated range using Worldwide Harmonised Light Vehicle Test Procedure (WLTP) applies to LH 88.55kWh model. Actual range varies with conditions such as payload, external elements, driving behaviours, vehicle maintenance, and lithium-ion battery age.