Discover the eDELIVER 9 at Sandicliffe | Your official MAXUS dealer in Nottingham
The Maxus eDELIVER 9 has arrived at Sandicliffe. Here to electrify your commercial driving, you can count on Maxus to deliver a robust, practical and versatile performance. The Maxus van range is popular all over the world, and the eDELIVER 9 is here to show you that electric technology is the future of Maxus driving.
If you're ready to enter the future of Maxus driving, contact the Sandicliffe team for a quote or come and visit us at your local Sandicliffe dealership to get a closer look at the Maxus eDELIVER range.
Up to
185 - 219 Miles Range
(WLTP Test Results)**
1290KG Max Payload
(exc Passengers)
Frequently Asked Questions
The eDELIVER 9 has a range of up to 200 miles (322 kilometers) depending on driving conditions, payload, and battery capacity.
The eDELIVER 9 is available with flexible seating options. The standard version has two front seats, but optional configurations can accommodate up to three passengers in the front.
Additional seating options in the cargo area, like a second-row bench seat, can increase the total capacity to five people.
The eDELIVER 9 offers several safety features, including but not limited to:
1. Anti-lock Braking System (ABS): It prevents wheel locking during sudden braking, maintaining steering control and reducing stopping distances.
2. Electronic Stability Control (ESC): This feature helps maintain stability and control of the vehicle during dynamic maneuvers, such as sudden lane changes or emergency avoidance.
3. Traction Control System (TCS): TCS ensures optimal traction by preventing wheel slippage during acceleration on slippery roads, enhancing stability and control.
4. Tire Pressure Monitoring System (TPMS): It constantly monitors the tire pressure and alerts the driver if any tire pressure drops below the recommended level, ensuring proper tire inflation and reducing the risk of accidents.
5. Rearview Camera and Parking Sensors: The eDELIVER 9 is equipped with a rearview camera and parking sensors to assist the driver while parking or maneuvering in tight spaces, enhancing safety and preventing collisions.
6. Hill Start Assist (HSA): HSA helps prevent the vehicle from rolling backward when starting on an incline, providing additional safety during hill starts.
7. Driver and Passenger Airbags: The eDELIVER 9 is equipped with front airbags for both the driver and passenger, offering protection in the event of a collision.
8. Lane Departure Warning (LDW) System: LDW alerts the driver if the vehicle unintentionally drifts out of its lane without signaling, helping prevent accidents caused by lane departure.
9. Emergency Brake Assist (EBA): EBA detects emergency braking situations and provides additional brake force for effective stopping, minimizing stopping distances and reducing the risk of collisions.
Why buy a e DELIVER 9?
The e DELIVER 9 offers a spacious interior and a long driving range, making it the ideal choice for eco-conscious businesses that require heavy lifting. It has a maximum total payload of 1290kg, providing ample room for all your needs.
Additionally, the e DELIVER 9 boasts an impressive driving range of up to 219 miles. Its fast charging speed allows you to reach 80% capacity in just 40 minutes. You can choose from different battery options, ranging from 51.5Kwh to 88.55Kwh, combined with a powerful 150Kw motor for an exceptional driving experience.
On the other hand, the Maxus DELIVER 9 Chassis Cab offers practicality alongside enjoyable infotainment features. It comes with a 10-inch central touchscreen, ensuring convenience and comfort during your journey. Furthermore, there are USB ports for both the driver and passengers, allowing everyone to stay connected while on the go.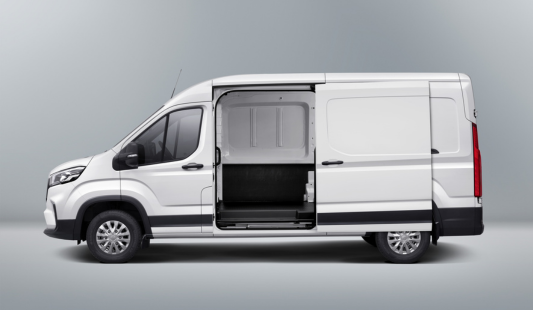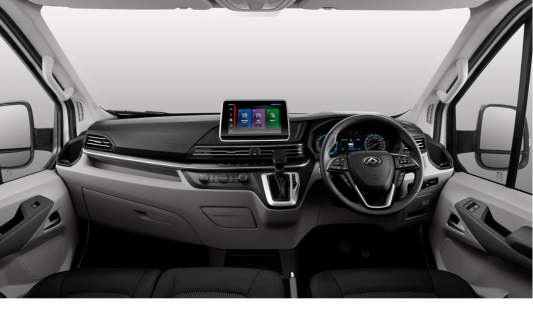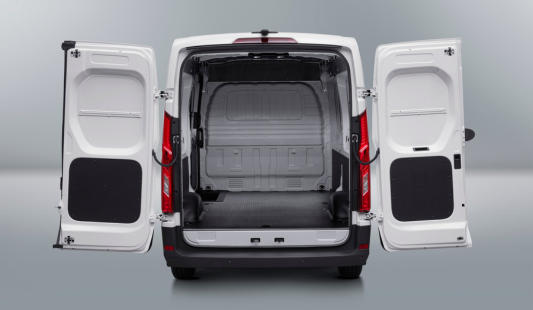 Electric vs Fuel - Cost Calculator
How much could you save?
During the time of owning your current vehicle, you will pay * in liquid fuel
However if you owned an electric vehicle, you would pay ** in electric costs
Total Saving:
Charge for electricity based on off peak. FOC charges excluded.
*Based on a pump price of £1.45 for petrol & £1.55 for diesel.
**The above is based off a eDELIVER 9 with a 219 mile range & 88.5kWh battery.
*Terms and conditions apply.
**Based on a full charge. Estimated range using Worldwide Harmonised Light Vehicle Test Procedure (WLTP) applies to LH 88.55kWh model. Actual range varies with conditions such as payload, external elements, driving behaviours, vehicle maintenance, and lithium-ion battery age.