INTRODUCING CUSTOM VINYL WRAPS FOR THE INEOS GRENADIER: MAKE YOUR ADVENTURE STAND OUT
At Sandicliffe INEOS, we understand that your Grenadier is more than just a vehicle. It's an extension of your personality and a symbol of your adventurous spirit. With our custom vinyl wraps, you have the opportunity to unleash your creativity and design a look that is uniquely yours. Whether you prefer bold and vibrant colours or a sleek and sophisticated finish, our team of experts will bring your vision to life.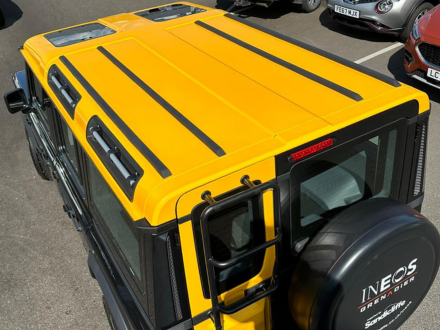 VINYL WRAPPING AT SANDICLIFFE
The possibilities are endless when it comes to customising your Grenadier. From eye-catching full-body wraps to subtle accents, we offer a wide range of options to suit your style and preferences.
Choose from an extensive palette of colours, finishes, and textures, including metallic, matte, gloss, and even carbon fibre. Add special effects, patterns, or graphics to make your Grenadier truly stand out from the crowd.
PROTECTION & DURABILITY
Beyond aesthetics, our custom vinyl wraps also offer practical benefits that protect your vehicle's original paintwork from scratches, stone chips, and weather elements.
The high-quality vinyl material is designed to withstand tough conditions and ensure long-term durability. So not only will your Grenadier look fantastic, but it will also retain its resale value for years to come.
PROFESSIONAL INSTALLATION
When it comes to custom vinyl wraps, proper installation is crucial. Our team of experienced professionals is trained to ensure a flawless and seamless finish. With their expertise, they will wrap every curve and contour of your Grenadier with precision and attention to detail. Rest assured that your vehicle is in safe hands, and you'll be amazed by the final result.
STAND OUT ON EVERY ADVENTURE
Imagine hitting the trails with a Grenadier that turns heads and sparks conversations. Whether you're embarking on a weekend getaway or conquering the off-road terrain, your customised Grenadier will make a lasting impression. It's a testament to your individuality and your ability to stand out in a crowd.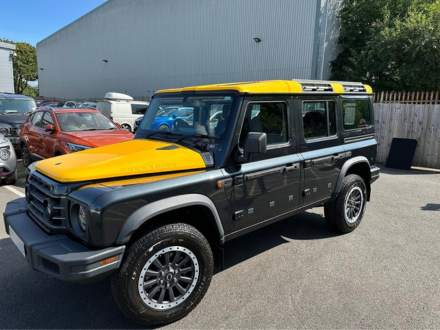 GET STARTED TODAY
Ready to take your Grenadier to the next level? Contact us today to explore the endless possibilities of our custom vinyl wrap service. Our dedicated team will guide you through the design process, providing expert advice and ensuring your vision becomes a reality. Get ready to make a statement and stand out as you embark on every adventure.
Simon Taylor
Customer Relationship Manager
Abbeyfield Road
Nottingham
NG7 2SZ
Phone: 0115 939 5000
Email: simon.taylor@sandicliffe.co.uk
Beth Greenacre
Customer Relationship Executive
Abbeyfield Road
Nottingham
NG7 2SZ
Phone: 0115 939 5000
Email: beth.greenacre@sandicliffe.co.uk
EXTRA FEATURES TO PERSONALISE YOUR GRENADIER
Frequently Asked Questions
Yes, all Grenadiers can be customised regardless of where they were purchased.
The towing capacity of the Grenadier is 3,500 Kg.
The available options for your engine include BMW's six-cylinder petrol and diesel as INEOS Automotive has partnered with BMW.