One of 2016's Hottest New Cars Arrives at Sandicliffe
One of the most eagerly anticipated cars of 2016 has arrived at our Trent Bridge FordStore. The brand new Ford Focus RS has landed in Nottingham.
Ford have been making RS cars for over 40 years, from the original Escort RS1800 through the Sierra RS Cosworth in the 1980s and the Escort RS Cosworth in the 1990s. Now, fourteen years after the very first Focus RS, the third generation model has arrived in the East Midlands.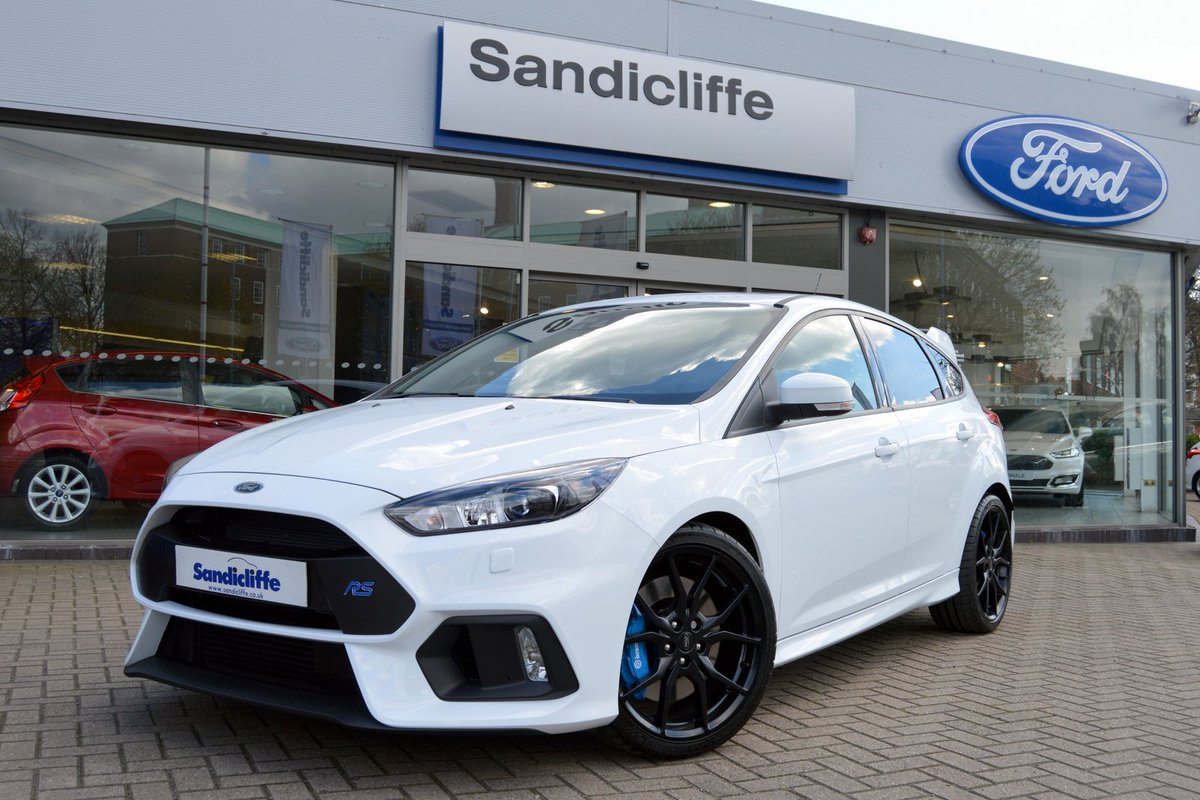 Phil Lycett, Ford New Car Sales Manager at Sandicliffe\'s Trent Bridge FordStore, said: "For more than four decades the unbeatable blend of power, speed and affordability has made the RS one of the most sought after and popular hot hatchbacks around.
"The new Focus RS is better than ever and we\'re really looking forward to showing our customers exactly what it can do."
The new Ford Focus RS boasts a 2.3-litre EcoBoost engine, producing 345bhp and acceleration of 0-62 in under five seconds. Featuring a six-speed manual gearbox it also boasts four-wheel-drive transmission, designed to deliver sports-car handling with a cleverly engineered bias towards the rear wheels.
The interior is fully equipped with Recaro sports seats, additional boost and temperature gauges and RS badges. The instruments, leather steering wheel, gearlever gaiter and manual handbrake are all either stitched or highlighted in characteristic Ford RS blue.
Reviews of the new Focus RS have been terrific. Autocar called it \'the perfect definition of \'exceptional\'\', adding that the new RS is \'nothing short of a sensation for petrolheads the world over\'. Auto Express was equally keen, calling it \'among...the best cars on the road today\' adding that \'the RS is one of the performance car bargains of the decade\'.
Mr Lycett from Sandicliffe Ford added: "The experts absolutely love the new Focus RS, and it\'s not hard to see why. as well as genuinely superb performance, it comes fully equipped and at a price that significantly undercuts its major rivals.
"We now have an RS at our Trent Bridge FordStore and I\'d urge anyone interested in this superb new car to book their test drive today."
For more information about the new Ford Focus RS visit Sandicliffe Trent Bridge FordStore. Alternatively, call Sandicliffe Ford on 0115 9395000.
Follow Us On