Article
2023 Ranger Raptor - Coming Soon!
The hotly anticipated 2023 Ranger Raptor begins global delivery this week. Visit your local Sandicliffe FordStore to find out more.

2023 Ranger Raptor - Coming Soon!
The much anticipated 2023 Ranger Raptor begins arriving at global dealerships this week. Visit your local Sandicliffe FordStore to find out more!
The Ford Ranger is one of the most famous vehicles in the global Ford collection. Offering an incredible combination of power, precision and performance, these rugged pick-ups are wild animals compared to most other vehicles on the UK roads. The 2023 Ranger Raptor will soon be joining the Ford stable and is sure to make an impression when it does.
The first generation of the Ranger Raptor arrived in the UK in the summer of 2018, and fans of this model have been anticipating an updated equivalent for many years. The new version of this brawny truck will not disappoint. With a fresh new design and an even larger engine, the 2023 Ranger Raptor is sure to make an immediate impact on British motorists.
We expect the 2023 Ranger Raptor to arrive in our Sandicliffe FordStore's by the end of this year, so be sure to register your interest today. With a history of excellence, we are certain there will be a great deal of interest. Or, if you want to be one of the first to test-drive this new model, get in touch with the expert Sandilciffe team today. We would love to hear from you.
A more powerful Raptor
The all-new Ranger Raptor comes with a twin-turbo 3.0-litre EcoBoost V6 petrol engine that offers a staggering 284 bhp and a torque of 491 Nm. We also expect to see the release of a Bi-turbo 2.0-litre EcoBlue diesel later on in 2023. This makes the new Ranger Raptor ideal for off-road driving. It is also one of the most powerful Rangers in the collection.
All of this power will be channelled into a four-wheel-drive system that offers an on-demand electronically controlled two-speed transfer case. This will give 2023 Ranger Raptor drivers even more control of their driving. As will seven unique driving modes including Normal, Sport, Slippery, Rock Crawl, Sand, Mud/Ruts, and Baja.
In the 2023 Ranger Raptor, this incredible power is balanced with ultimate driving precision. You will benefit from the use of Ford's revolutionary Fox dampers that boost the suspension for the smoothest ride ever seen in a UK Raptor. You will also enjoy an all-new Trail Control off-road cruise control system, which operates at speeds of up to 20 mph.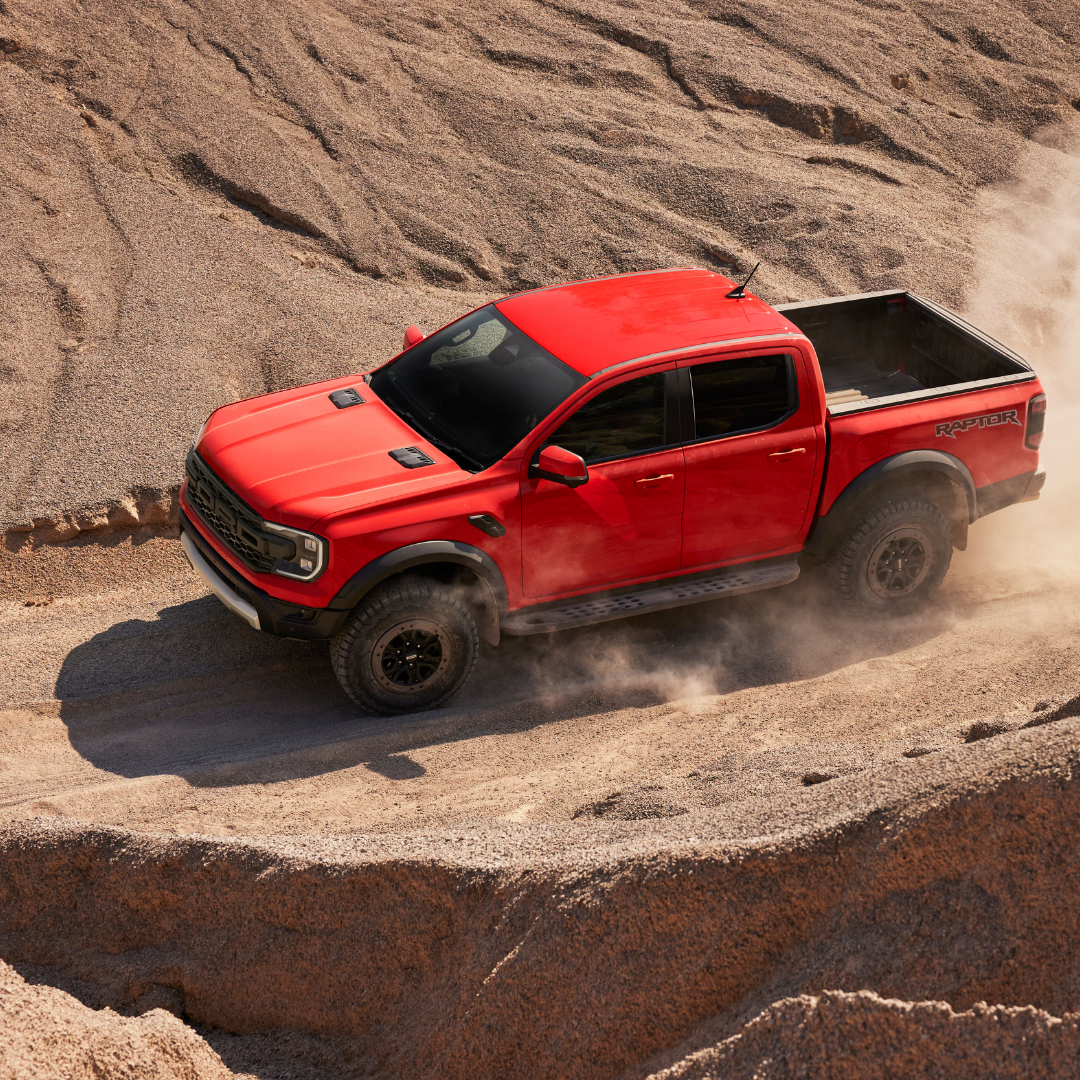 Breathtaking new design
While the engine upgrade is sure to impress petrol heads, the new interior and exterior are guaranteed to make an impression. The exterior of the all-new 2023 Ranger Raptor has been modelled on the F-150 Raptor. The F-150 is only available in the US, but the new Ranger Raptor will bring its beefy, animalistic design to the roads of the UK.
Slightly smaller than the F-105, the new Ranger Raptor is perfect for both the city and countryside. You will also enjoy stylish and powerful matrix LED headlights, robust air intakes and aluminium side steps that complete the sophisticated look. This is alongside 17-inch wheels that feature all-terrain tyres and a sports-tuned exhaust with variable sound output.
Inside, you will find sporty seats that have been inspired by jet fighters. These seats come with stylish "Code Orange" design touches that will make you feel like you are in an action movie. To complete the interior luxury, you will enjoy a 10-speaker sound system that is connected to a 12-inch vertical touchscreen with wireless SYNC 4 support.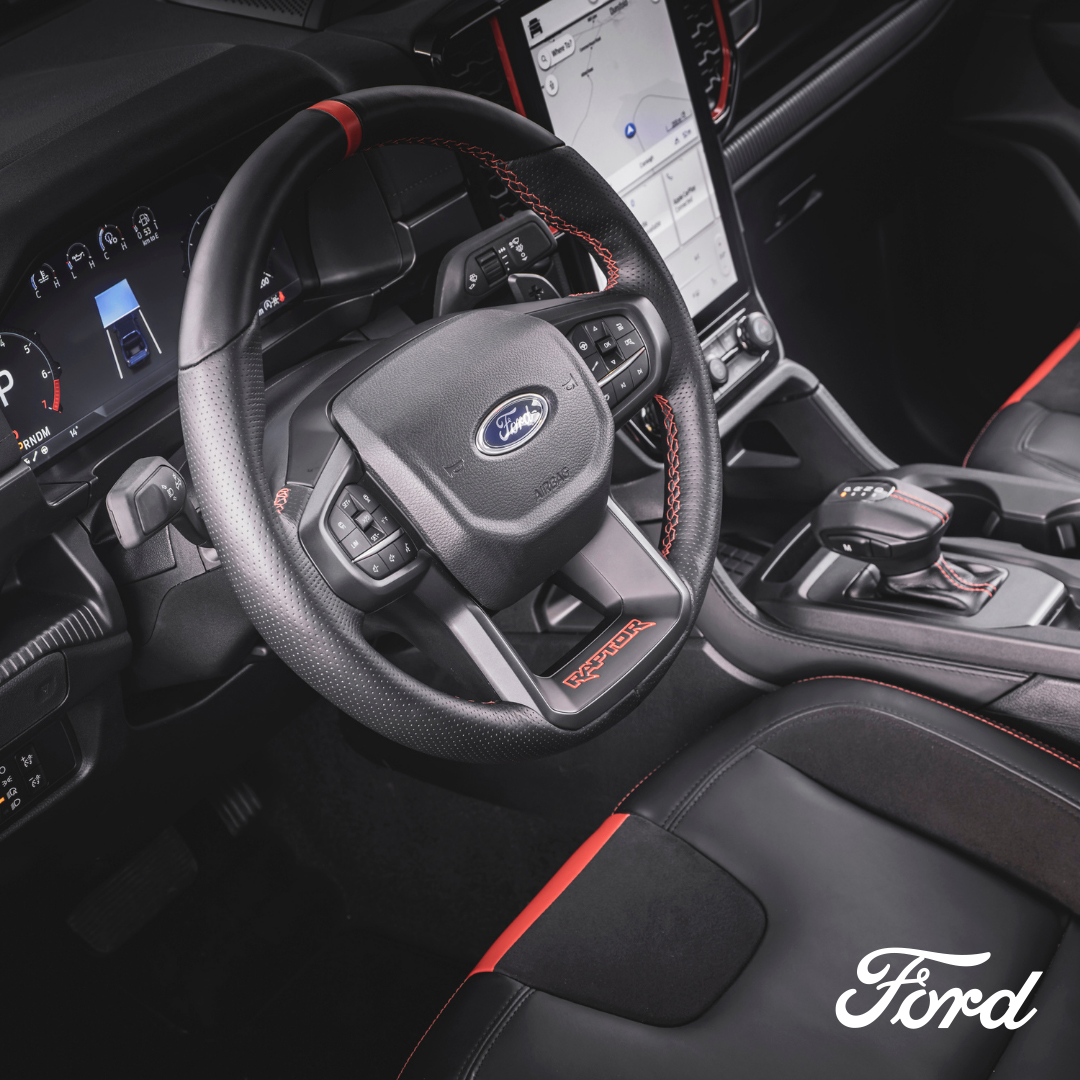 New Ranger Raptor at Sandicliffe
The closer we get to the arrival of the 2023 Ranger Raptor, the more information about its specification we will know. So, be sure to check back with our specialist team regularly for more information. Or, if you want to be the very first to know about the updated Ranger Raptor, contact Sandicliffe today.
However, if you can't wait that long for the release of the all-new Ranger Raptor, there are several incredible Ford vans and pick-up trucks currently available at your local Sandicliffe FordStore. This includes the standard Ford Raptor, Ranger Stormtrak and Ranger Wolftrak. With such a wide choice, the Ford Ranger collection has something for everyone.